Blessings to celebrate a Girl's Christening or Naming Day
FOR CUSTOMER SUPPORT
Please call 01323 762455 from Monday - Friday only, between 9:30am - 4:30pm
PLEASE ALLOW APPROXIMATELY 2-3 WORKING DAYS FOR DELIVERY WITHIN THE UK
IF REQUIRED URGENTLY PLEASE LET ME KNOW, THANK YOU!
A BAG OF BLESSINGSFOR A GIRLCELEBRATING HER CHRISTENING DAY
CREATED BY KAZ WITH LOVE
I first created these little 'Bagz of Blessingz' in 2001 and have been making them ever since!
I believe that one of these gorgeous gift bags would be a delightful present for you to give to a little Girl, your Grandaughter, Goddaughter, Niece, Sister or Cousin, to celebrate her Christening Day.
(Make your choice from the drop down box above the 'add to cart' button.)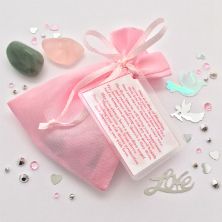 Each beautiful little satin bag contains some real gemstones, Aventurine and Rose Quartz, a tiny confetti angel and little dove, and some confetti hearts and stars.
The following sentimental verse (which is printed and laminated) is attached to the outside.
This is a Bag of BlessingsGiven on your Christening DayWith lots of love and best wishesThat you may be blessed in every way.The Rose Quartz will bring you happiness And surround you with joy and love The Aventurine will help ensure good health And to bring you peace, there's a tiny dove.May you always have a guardian angelWatching over you from aboveSurrounding you with divine protectionAnd showering you with love.
Copyright © 2001-2016 Karen Bourner.
All rights reserved.
This pretty Gift of Blessings is all about the sentiment within the verses and the contents of the little bag symbolise those sentiments and wishes.
I think you'll agree that this would be a wonderful, unusual, sentimental and heartfelt gift to give!
Please note that the bags measure approximately 8cm x 10cm (3" x 4") and the colours may differ from the ones in the picture, but is usually pink for a girl.
The size and shape of the gemstones will differ as each one is beautifully unique.
N.B. The photographs illustrate examples of some of the colours which are usually available and therefore they may not show the actual gift, as described above.
Please be sure to let me know if the gift is needed urgently otherwise, please allow 2-3 days for delivery within the UK
We all have many celebrations and occasions throughout the year when we would like to give our loved ones, friends and family members a gift, a keepsake, or a small token of love and affection, congratulations, encouragement - or sometimes words of comfort...
My beautiful little heartfelt and sentimental gifts are a unique and inexpensive way to show someone what they mean to you and how much you care. No matter what the occasion, you can be sure that these gorgeous little gifts and keepsakes will be loved and treasured for many years to come.
If you have any queries, or cannot find the gift you are looking for, please don't hesitate to contact me.
Surrounding you with Love, Light and Crystal Rainbows, Kaz
PLEASE NOTE
I HAVE BEEN CREATING THESE GIFTS SINCE 2001 AND HOLD THE COPYRIGHT TO ALL MY POEMS
I generally work from Monday to Friday and not evenings and weekends
DELIVERY INFORMATION
To allow for individual requests most of the Gift Bags and Boxes are made after they have been ordered, therefore
I AM NOT ALWAYS ABLE TO DISPATCH YOUR PURCHASE IMMEDIATELY
However, I usually try to post items within 1-2 working days of receipt of payment.
IF NEEDED URGENTLY PLEASE LET ME KNOW THE DATE THIS GIFT IS REQUIRED
and I will endeavour to get it to you by, or before, the date requested. Thanks!
Bright Blessings
Kaz